Your lifestyle can change with age, and many adults begin looking for new housing opportunities more suited for their needs. Some seniors may want to forge new friendships, discover new interests, or reduce everyday stress. No matter why someone looks into senior living, there is a community suited for their needs.
If you're interested in senior living, what should you be looking for? Continue reading to learn more about what these communities can offer and what to look for when choosing your new home.
What is a Senior Living Community?
A senior living community, or continuing care community, is a single facility offering residential care for older adults. No matter the level of care you require, there's space for you in a senior living community.
Some residents can live independently but desire new connections. They may not want to worry about everyday tasks like cooking and cleaning. Other seniors may need help with some of the tougher aspects of life, like managing medications or health conditions.
The goal of these communities is to help older adults enjoy life to the fullest by providing daily care and support.
What Do Senior Living Communities Offer?
Besides different levels of care, residents have several services and programs to enjoy. These services provide ways for residents to pursue their wellness needs, including:
Physical needs: Living a healthy & active lifestyle
Spiritual needs: Living with meaning & purpose
Social needs: Daily interactions with others
Emotional needs: Being aware of & accepting feelings
Intellectual needs: Engaging in creative pursuits
Vocational needs: Expressing oneself through talents & passion
Environmental needs: Respecting & caring for our surroundings
Senior living communities offer different ways for you to meet your needs. Whether your needs are physical, emotional, or spiritual, available staff can help improve your quality of life. If you're thinking about senior living, what should you be looking for in your ideal community?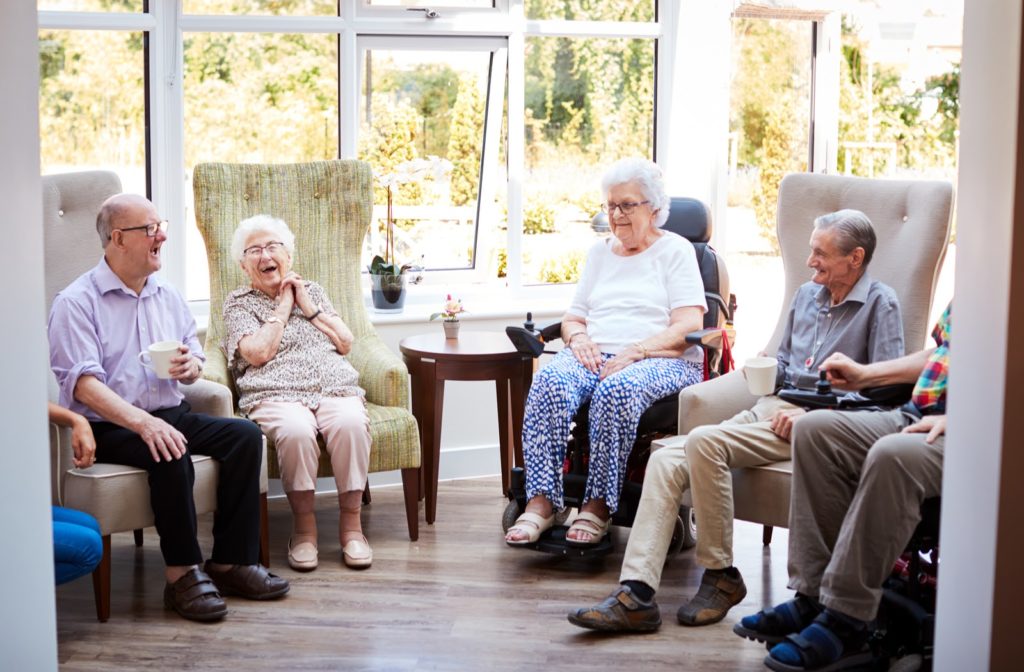 What to Look For in a Senior Living Community
Choosing a new place to live is tough. With so many options available, how do you know what to look for? Before making any final decisions, learn more about what to look for in a senior living community.
A Place That Accommodates Your Needs
When choosing a new place to live, you need to think about your future. How long do you want to stay? If you're planning for the upcoming years, you need a home that can accommodate your needs.
Look at the apartment amenities of a community to see what your room offers. There are many different types of apartments and homes with several included benefits, such as:
Walk-in showers
Emergency response systems
Utilities (Television, heat, electricity, water, etc.)
Washers & dryers
Wi-Fi
Non-slip flooring
Your room is more than a place to sleep; you need a home that caters to your evolving needs. If you're planning to stay in a senior living community for the foreseeable future, make sure it can provide everything you may need.
A Community You Feel Welcome In
Senior living communities bring similar people together in one location, providing many socialization opportunities for residents. These opportunities are important, offering seniors a sense of belonging, an essential feeling for people to have.
Many communities provide different events for residents and their families to meet, mingle, and get to know one another. Having a supportive group can make your new community feel like home.
If you're interested in a specific location, book a visit during the day. You can get a feeling for the community and if you'd enjoy staying there.
A Place With Beneficial Services & Programs
Your needs must be cared for, and senior living communities achieve this in several ways. Different services, amenities, and programs can help you stay healthy, creative, and social.
Depending on your lifestyle, these services can include chef-prepared meals, housekeeping, and recreational opportunities.
Think about some of the amenities you desire when looking into senior living. Knowing what services you value can help you find your ideal community.
Some common services and amenities include:
Chapel
Salon
Library
Great room
Community
Private dining room
Computer room
Whirpool spa
Courtyard seating
A Home You Can Stay In, No Matter What
Growing older can bring many changes. You may have more trouble doing your everyday tasks, but senior living communities can help reduce your workload. What happens if your needs change?
You may need help with a few tasks here and there at first, but you may need more assistance later. A benefit of senior living communities is that they offer different lifestyles for people at different stages in life. You can receive more help as you need it, without moving to a new home.
Look for a community that can help you with your needs, no matter how much they change.
Find Your Ideal Community
Find a home and community that supports your unique needs. You don't have to make any decisions right away; see what your community can offer you. If you're interested in senior living, contact your local community today.